CVSBDC events in Blue
Community Investment Collaborative (CIC) events in Green
Other Community events in Black

Protect Your Growing Business
July 13, 2022 @ 6:00 pm

-

7:30 pm
The Entrepreneurial Equation™
Learn from Jay Bradford and Joan Carlson from Edward Jones about The Entrepreneurial Equation™, a program designed to help educate business owners about tools and strategies to help make building, running, and preserving a business easier.
Topics covered include:
Building Your Business

Time management
Attracting and retaining employees

Creating Value Outside Your Business

Retirement plans for businesses with no employees
Retirement plans for businesses with employees

Preserving Your Business

Key person disability and life insurance
Deferred compensation
IN PERSON event: Join us at the CV SBDC office (300 Preston Ave, free parking on-site) for networking and light refreshments before the event
Speakers:
Janasha "Jay" Bradford:
Known as Jay, I was born in Newark, NJ, and later raised in Charlottesville. Helping others has been an integral part of who I am and I'm happy to have the opportunity to help those in my hometown reach their financial goals. I've been in the financial industry for over 5 years and wrote my 1st children's book titled, Mahogany goes to Wall Street, which introduces the financial market in a story format. My book can be found in Barnes & Noble, Walmart.com, Amazon.com, and local book & toy stores.
I'm a firm believer in that your experiences shape who you are. At the age of seven, my father passed away. As in most homes, he was the patriarch of the family. Following his death, I witnessed my mother, a new widow, mismanage a large insurance policy due to her lack of financial education and poor financial advice – sometimes you don't know what you don't know. This ultimately led to the loss of my family home, financial hardships, and me pulling out of college, only to later pay for it myself. That experience put financial literacy at the forefront of my mind and showed me the value of the entire family being financially educated.
As an Edward Jones financial advisor, clients can expect a high level of service and personalized approach. I believe it's important to invest my time to understand what you're working toward before you invest your money. We strive to make sure clients feel heard and that we understand their unique stories. We work to help clients understand the investment world in terms they can relate to. We offer investments, services, and tools our clients need to achieve their financial future.
I am an active member of the community; I'm a committee member for The Arc of the Piedmont gala, I volunteer at Community Investment Collaborative, and I'm a member of Black Women of Charlottesville Virginia, Boss Babes C'ville, and Common House. I enjoy traveling abroad with my boyfriend Keith, owner of The Pie Guy, and spending time with my nieces and nephews- I pride myself on being the best auntie! I love plants, water sports, trying new food, and DIY projects.
I look forward to working with you to achieve your life goals and to be a part of your family! Give me a call today or message me on LinkedIn.
As the late Maya Angelou said, "people will forget what you said, people will forget what you did, but people will never forget how you made them feel." 
Website information: www.MahoganyandFriends.com –for book Janasha Bradford, Financial Advisor | Edward Jones -Advisor website
Joan Carlson: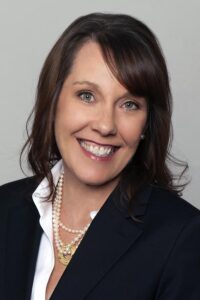 I was raised modestly on a farm in Iowa and have worked since I was 12 earning money to put myself through college. After college, I started my career in financial services in institutional bond sales. I moved on to a small asset manager and worked with fixed income and equity management. I also helped with marketing for the firm. That all led me to Merrill Lynch, where I started working with high net worth individuals.
In 2009, I joined Edward Jones for a variety of reasons. Mainly, Edward Jones stands out from other firms because of how truly client centered we are and how deeply we care about and serve our clients. Our one-on-one approach creates a comfortable environment where our clients feel that we fully understand what is most important to them and will act in their best interest.
Our clients can expect a high level of service and personalized approach. I create tailored solutions to help solve the needs of our clients and delight in helping others set goals and gain a sense of control over their future. I enjoy getting to know my clients and how unique each one is – as are their financials goals and needs. The role of financial advisor is the perfect combination of all my past experiences and passion.
I have been married for 29 years and have raised three children who are all through college and out working in life. I am fiercely proud of my family and enjoy spending time with them traveling, being outdoors and celebrating life. I also like to play tennis, run, do yoga and play the piano.
Website: Joan M Carlson, Financial Advisor | Edward Jones
Sponsored by:

Cohosted by: Community Investment Collaborative, Charlottesville Regional Chamber of Commerce, and Cville Chamber Minority Business Alliance