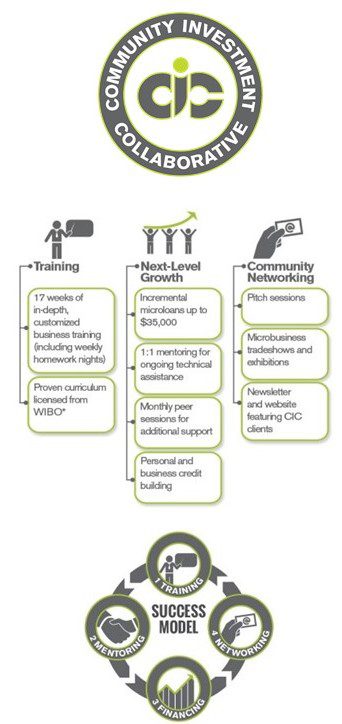 Community Investment Collaborative
Community Investment Collaborative (CIC) is the fiscal sponsor and host of CV SBDC. Our programs support each other and we collaborate when working with early-stage businesses. 
CIC launched in 2012 to support development and growth of community businesses and entrepreneurs. CIC is uniquely supportive in early-stage business education and connection to resources. The organization runs an accelerator and incubator with an impressive list of more than 500 graduates over the past decade plus.  CIC also manages a microloan program for loans up to $50,000, and was instrumental in management of CARES Act grants for numerous municipalities. 
CIC's program is built on four pillars designed to help entrepreneurs start or expand their business:
An established and proven business-education program

Extensive mentoring, peer discussions, and ongoing support

Startup financing or ongoing microfinancing

to qualified graduates

Networking within and across the community
CIC fosters entrepreneurial success through training, next-level growth, and community networking. Read more about  program success and their entrepreneurs who are open for business.