CVSBDC events in Blue
Community Investment Collaborative (CIC) events in Green
Other Community events in Black

Quad County Business Summit & QuadTank Pitch Competition
October 20, 2021 @ 8:30 am

-

12:30 pm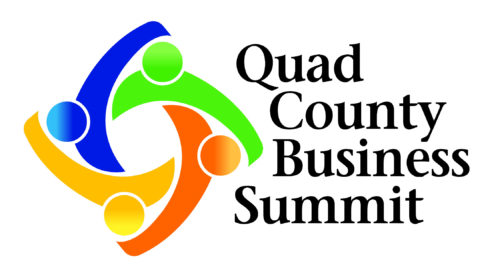 The 6th annual Quad County Business Summit will bring together businesses from the counties of Fluvanna, Greene, Louisa, Madison, Orange, and others from Central Virginia for a half-day of networking opportunities. This is an IN-PERSON event, and will take place at The Pavilion on Lakeland Farm. Masks strongly encouraged.
The Summit will also include a keynote speaker, local business owner panel discussion with Q&A, and the Annual QuadTank, a winner take all pitch competition. The highly anticipated QuadTank is a highlight of the Quad County Business Summit. Up to four finalists compete for the winner take all $8,000 grand prize.
2021 Agenda
October 20, 2021
8:30 am
Resource Fair, Sign-in and Breakfast
9 am
Welcome and Keynote Speaker, Kiley Doll
9:45 am
Business Roundtable and Q&A with successful area business owners
10:30 am
Networking and lunch pick-up
11 am
QuadTank Pitch Competition & Lunch
12 pm
Networking ​
12:30 pm
QuadTank winner announced
Event Information: Quad County Business Summit & QuadTank Pitch Competition
For more information, visit: www.qcbsummit.com
Win the $8,000 Quad Tank Competition!

DETAILS:  This is the third annual QuadTank Pitch Competition – an exciting new addition to the Quad County Business Summit. The winning individual or team this year will be awarded a $8,000 cash prize to support implementation of their business plans. At the end of the Quad County Business Summit, the winner will be chosen by a panel of judges.
PROCESS:
1) Participating individuals or teams submit a business plan or pitch deck no later than Monday, October 11th at noon to QuadTank@cvsbdc.org.
2) Participants will be notified if there are more than 4 qualified entries. If notified, there will be
a Pre-qualification Pitch round on Oct 13th and Oct 14th (flexible pitch times will be offered in 15 min increments starting at 9 am on Oct. 13th & 4 pm on Oct. 14th). Pitches will be virtual, via zoom. [If online connectivity is an issue zoom may be accessed by mobile device or we can provide a location in your county for you to make your pitch.] 3) Semi-finalists (up to 4) will be invited to present in person at Quad Tank on Wednesday, October 20th.
FORMAT:
Participants will be allotted a maximum of ten (10) minutes to pitch their idea or concept and five (5)
minutes for Q&A with the judges. Participants may use PowerPoint, Canva, GoogleSlides
or other visual aids, or props during their pitch. Pitch visuals should be submitted to
QuadTank@cvsbdc.org 48 hours prior to presentation, as a backup, in case there are issues with
technology