CVSBDC events in Blue
Community Investment Collaborative (CIC) events in Green
Other Community events in Black

Events 101 – Hosting with intention & impact (Workshop)
November 7 @ 6:30 pm

-

8:00 pm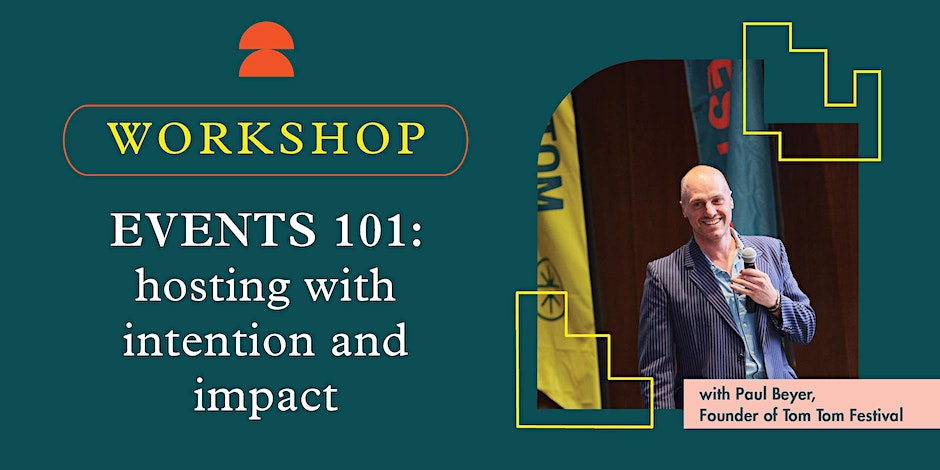 This workshop with Tom Tom Festival founder, Paul Beyer, explores creating events from inception to execution.
This is is a workshop series designed with YOU in mind.
What is that will allow you to create memorable events that build community and make impact?
Hosting an event is no simple task — from inception to execution — there's a lot more than meets the eye. Learn how to host a gathering that's intentional and memorable; while meeting other change-makers who want to lead events that make an impact.
Whether you're throwing a dinner party, a fundraiser for a non-profit, or a major public event, this workshop will offer a framework for crafting it from the ground up, and helpful tips that will leave you feeling inspired and confident.
FORMAT
We will start with a series of introductions and connection exercises — one intention for this workshop is that facilitators, hosts, and conveners here in Charlottesville get to know each other! This will be followed by a presentation on how to create a philosophy for gathering, alongside practical tips for programming, producing, and marketing events. There will be ample time thoughout the evening to connect attendees and share experiences and insights from those gathered.
TICKETS
This seminar is offered in a 'donation' based model so that attendees are placing value on the experience and making a commitment to attend and participate. Donations will go to the Tom Tom Foundation (501c3) to support work in community building in Charlottesville.
---
BIO
Paul is the founder of the Tom Tom Foundation and Tom Tom Festival, and in his role as executive director, is responsible for its strategic vision and community partnerships. Beyond Tom Tom, Paul works on a variety of gatherings and events ranging from festivals, dance parties, dinner series, meditations, men's groups, conferences, seminars, and concerts.
Paul is engaged in a number of civic and entrepreneurial pursuits that help elevate the region, and foster communities of friendship and collaboration. He has been widely active in organizations such as the Chamber of Commerce, Charlottesville Economic Development Authority, Affordable Housing Commission, and the creation of a regional Cultural Plan. Born and raised in Charlottesville, Paul graduated from New York University and returned to his hometown in 2006.
ABOUT THE ORGANIZER
Organized by Tom Tom Foundation
The 11th Annual Tom Tom Festival will be April 19-23, 2023. Our theme is FUTURE FORWARD, and will connect diverse communities to share ideas and build a brighter tomorrow for Charlottesville. The Festival is a cultural experience throughout the historic downtown, connecting neighbors and friends through music, art, ideas, and performances.