CVSBDC events in Blue
Community Investment Collaborative (CIC) events in Green
Other Community events in Black

Quad Business Summit & QuadTank Pitch Competition
October 12, 2022 @ 8:30 am

-

12:30 pm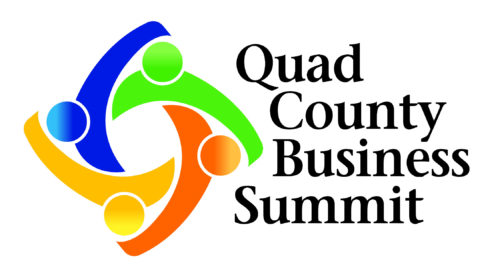 The 7th annual Quad Business Summit will bring together businesses from the counties of Fluvanna, Greene, Louisa, Madison, Orange, and others from Central Virginia for a half-day of networking opportunities. This is an IN-PERSON event, and will take place at Shenandoah Crossing.
The Summit will also include a keynote speaker, local business owner panel discussion with Q&A, and the Annual QuadTank Pitch Competition. The highly anticipated QuadTank is a highlight of the Quad County Business Summit. Up to four finalists compete for the grand prize.
2022 Agenda
October 12, 2022
8:30 am
Resource Fair, Sign-in and Coffee
9 am
Welcome and Keynote Speaker, Kelli Palmer (Chief Diversity Officer, WillowTree)
9:45 am
Local Business Owners Panel Discussion and Q&A
10:30 am
Networking and lunch pick-up
11 am
QuadTank Pitch Competition & Lunch
12 pm
Networking ​and QuadTank Judge Deliberations
12:30 pm
QuadTank winner announced
For more information, visit: www.qcbsummit.com
Win the Quad Tank Competition!

DETAILS:  This is the fourth annual QuadTank Pitch Competition – an exciting addition to the Quad County Business Summit. The winning individual or team this year will be awarded a $6,750 minimum cash prize to support implementation of their business plans. At the end of the Quad County Business Summit, the winner will be chosen by a panel of judges.
PROCESS:
1) Participating individuals or teams schedule a meeting with a Central Virginia Small Business Development Center (CV SBDC) advisor anytime before September 16th to apply and discuss the project for which funding is being sought. Meetings will be scheduled at times convenient for the applicant(s).  Meetings are scheduled by CV SBDC's Client Services Coordinator, Mesa McMurtrey via email: contact@cvsbdc.org, or by calling 434-295-8198.
2) We recommend attending the one hour Pitch Preparation program offered via zoom on September 20, noon-1:00pm to get tips and tricks and an explanation of the judging criteria. A recording of the program will be made available for those that cannot attend.
3) Applicants prepare and submit a written description of the project, a business plan or pitch deck no later than Monday, September 26th at noon to QuadTank@cvsbdc.org.
4) All applicants will be entered into consideration for Semi-finalists (up to 4) will be invited to present in person at Quad Business Summit on Wednesday, October 12th.
FORMAT:
Participants will be allotted a maximum of ten (10) minutes to pitch their idea or concept and five (5) minutes for Q&A with the judges. Participants may use PowerPoint, Canva, GoogleSlides or other visual aids, or props during their pitch. Final pitch visuals should be submitted to QuadTank@cvsbdc.org 48 hours prior to presentation, as a backup, in case there are issues with technology. Props may be used but should be discussed with CV SBDC's Event Coordinator, Shira Goldeen (events@cvsbdc.org) in advance.
---
Shenandoah Crossings Resort is offering a special rate for any Quad Business Summit attendees to stay on the property. Reservations for Oct. 11 – Oct. 13 are available via this link.
Located on over 1,000 acres of rolling hillside and lush pasturelands with a scenic 60-acre lake, Shenandoah Crossing is the perfect place for those who love the outdoors. The ambience at Shenandoah Crossing reflects history and wilderness. The resort combines an old country estate and horse farm, with acres of wilderness in a pristine area that lies just beyond the Shenandoah Valley. Enjoy an exciting variety of accommodations. Choose from traditional 2-bedroom to well-appointed 3-bedroom cabins, chalet-style homes, and glamorous yurts. Shenandoah Crossing also features state-of-the-art RV sites.